You meet a friend and chat for an hour. Have you ever wondered how many pages that would fill, if every word of it were printed in a magazine? How many words would that be?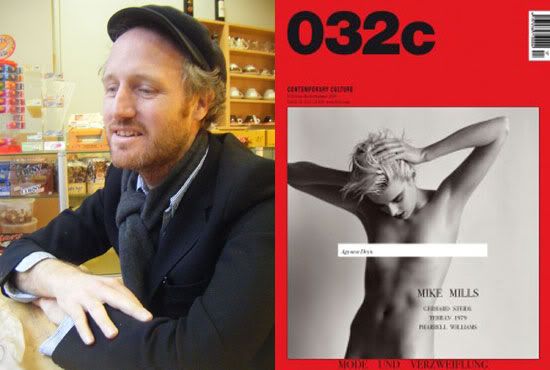 I can answer those questions, approximately, because this is exactly what happened when I met and interviewed Mike Mills in late January. We spoke for about an hour, with never a dull moment, and I recorded and transcribed the whole thing, and now (well, Tuesday May 5th, to be precise) it's forty pages and seven thousand words in the new edition of 032c magazine.

Mike spoke a lot about depression, in both its meanings -- in the personal, medical sense, and in the social, historical sense ("the Great Depression"). He spoke about discovering his father was gay when his dad -- a museum director -- came out in his seventies. That's the subject of his next film, in fact. He also answered my questions about his documentary about depression in Japan, Does Your Soul Have A Cold?

The new 032c will surely sell like hot cakes. Not because of Mike Mills talking about the two meanings of depression, but because of the visual pep of Agyness Deyn getting naked for Alistair McLellan's camera. Not a bad pick-me-up, really.