Without Tokyo Art Beat, Love is the End of Art, my art show in Chelsea, would never have happened -- or at least, would have been totally different, and sadly Aki-less. It was this TABlog piece, containing a video interview with Aki Sasamoto, that made me aware of Aki, her performances and her interesting ideas.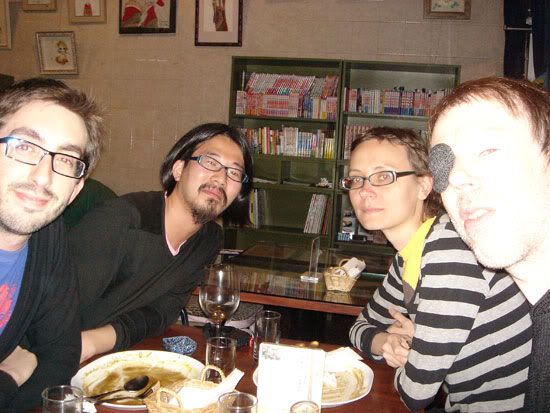 Last night Ashley Rawlings -- a critic who used to live in Tokyo and write for TAB, but has now been headhunted by Art Asia Pacific and lives in New York -- introduced me to the two editors of Tokyo Art Beat's New York sister site, Kosuke Fujitaka and Aneta Glinkowska. They now live right next door to my favourite Japanese home cooking joint, Hiroko's Place in SoHo -- actually in the same apartment where Andrew Maerkle (who's now in Tokyo writing for the art section of the Japan Times) lived when he wrote for Art Asia Pacific.

Are you following all this? It's complicated, like trying to find an art show in Tokyo. And that's why Tokyo Art Beat -- an excellent art listings website run on a coding system called BeatCMS -- came into existence. Before TAB, there was really no way to find out what was on in Tokyo, and certainly not for non-Japanese speakers. After TAB, you could map the galleries, find out what was on in the vicinity, read staff and user-generated reviews, see the most popular show rankings, and use the site's quirkiest and possibly most exciting feature, the Bubble Machine, a flash media visualisation of art shows accompanied by strange, mottled, stilted guitar music.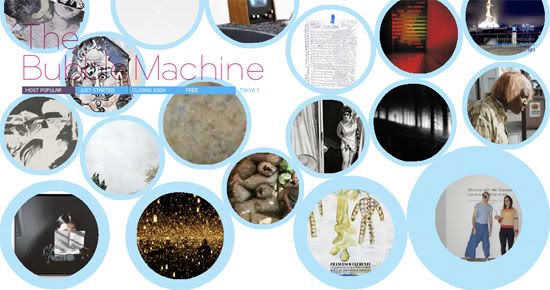 Tokyo Art Beat quickly expanded to Kansai and then, rather surprisingly, to New York. I'm delighted to see that my show is currently one of the bubbles bouncing around the New York version of the Bubble Machine. You can actually play the page like a musical instrument, and the results sound uncannily like the record I made with another brilliant female collaborator, Anne Laplantine. Anne and I have talked about making Summerisle 2 this year -- perhaps we can do it with the Bubble Machine!