I discovered a cache of Polaroids taken in February 1996, when I lived in Paris -- surrounded, it seems, by some of the world's most beautiful women.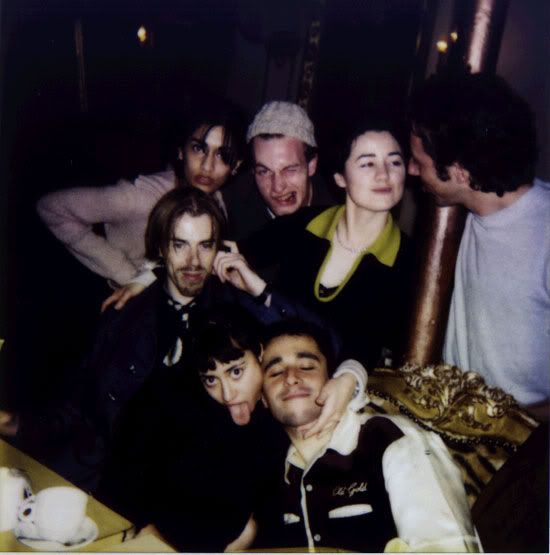 This first one introduces "the characters". Top left is my wife Shazna, next to her someone whose name I've forgotten, next to him is Vicky Bogle, my flatmate in London between 1990 and 1993. Vicky is talking to Edouard Baer, who's now one of France's most famous film actors. I'm in the middle, and below me Laila France is throttling Ariel Wizman, who's a pretty famous TV presenter in France (and was even back then).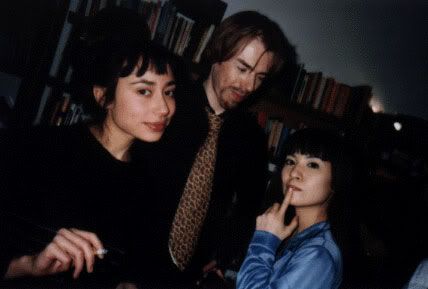 I have to say it was fun pretending to be Serge Gainsbourg at this point in my life (and having big hits in Japan on the strength of it). Here I am with two of my "songbirds", Laila France and Kahimi Karie. I made a string of EPs with Kahimi between 1994 and 1999, and an album with Laila in 1997, Orgonon (which you can hear / download here).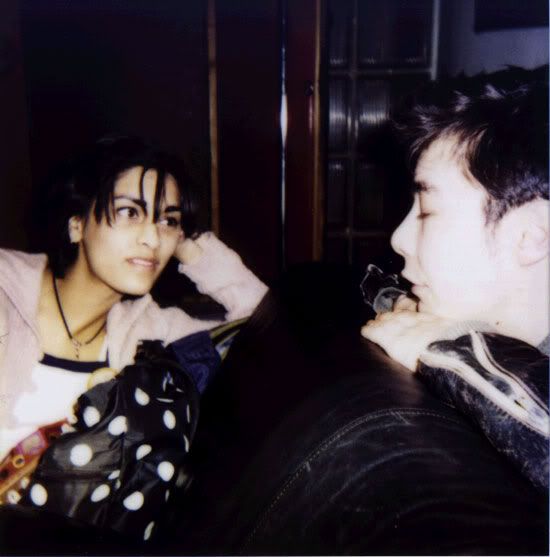 Here's Shazna with Alain Gac, who'd just been put in charge of an indie record label distributed, I think, by Barclay (which was Jacques Brel's label, of course). I later heard Alain was running some pretty big label. Not sure what he's up to now.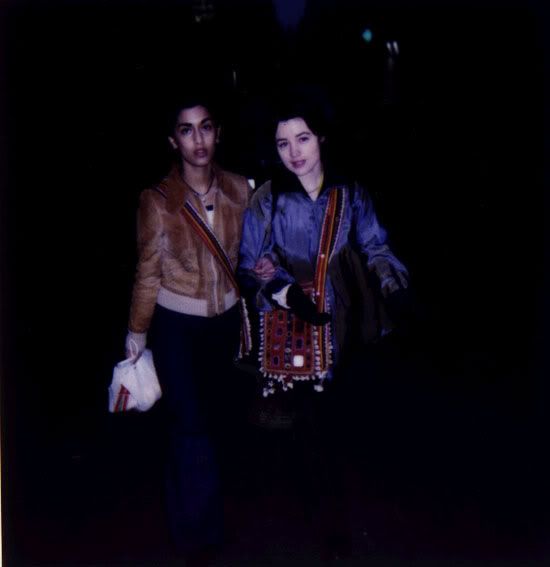 Here's Shazna with Vicky. Shazna now has a high-powered media job in New York, Vicky is a secondary school teacher in Auckland, New Zealand.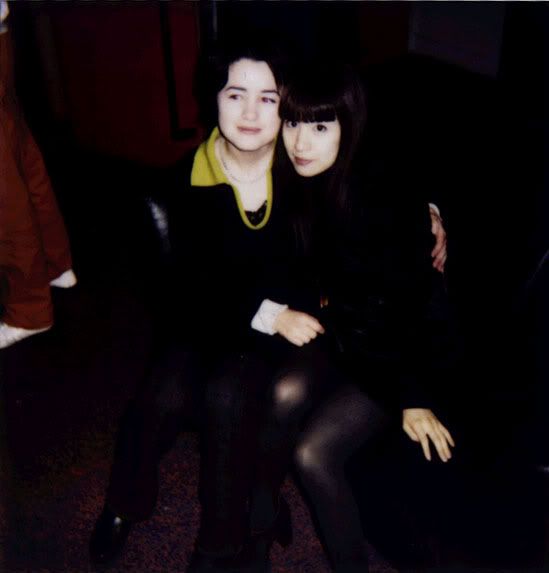 Vicky and Kahimi, who, as I noted last week, is currently working on a new album with Jim O'Rourke.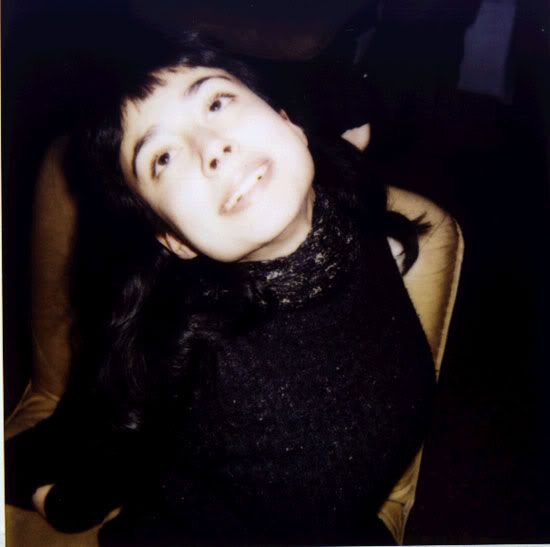 Here's Laila ("50% Thai, 50% French, 100% funky girl" as she describes herself) in a state of orgasmic bliss. Laila now DJs in Paris under the name of Samantha Cru, and runs a party organisation called Crash Bandi.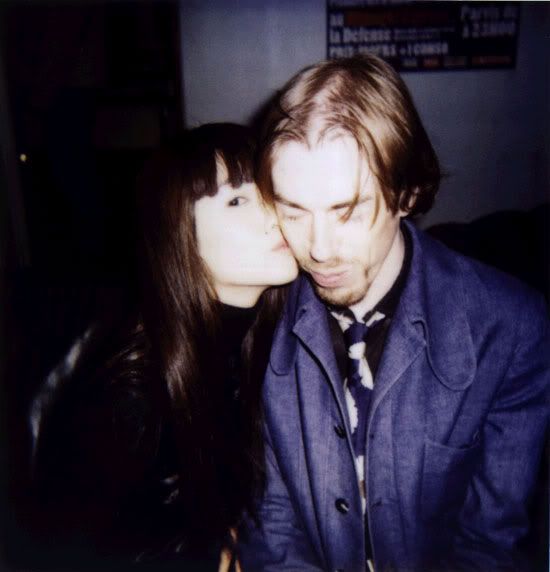 Me (with 90s "curtain" hair and 90s "goatee" beard) being kissed by KK. I'm wearing a remade retro-70s suit from a shop called TGV, my "tailor" at the time.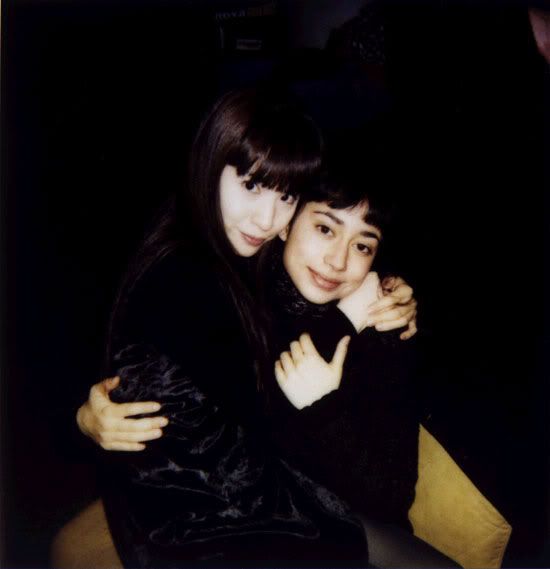 Kahimi and Laila. They duetted, shortly afterwards, on the song David Hamilton, which is one of my best, but least-known songs (Kahimi actually covered the song recently with Jim O'Rourke, Otomo Yoshihide and Sachiko M accompanying her -- it's on the Muhlifein DVD, but I've never heard it).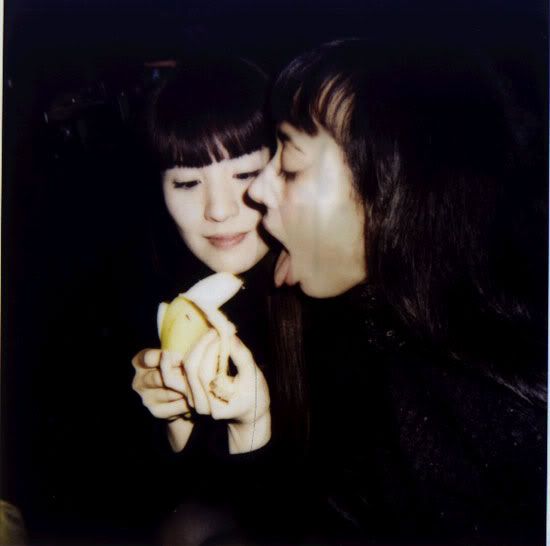 Kahimi in Index magazine in 1999:

STEVE: You have another beautiful song, "David Hamilton." What is that about?

KAHIMI: I made a t-shirt with a picture of David Hamilton on it. So I sent it to Momus. After that, he wrote the song for another singer called Laila France. And Laila wasn't interested in David Hamilton. I'm very good friends with Laila, but because of my t-shirt he wrote it. So I called Momus and said, "Why did you write that song for Laila?" [laughs] He said, "Okay, okay."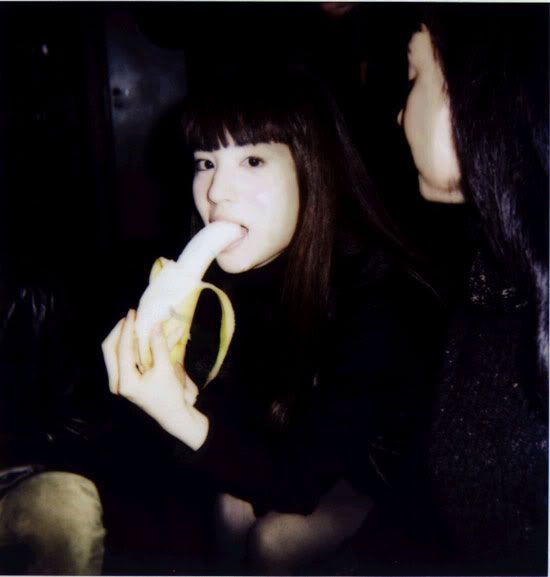 STEVE: I'm beginning to think Momus does his best work with you.

KAHIMI: He's a very strange man. A little like Mike Alway. Sometimes we have a catfight, but it's for fun.




Finally, here I am waiting to appear on Ariel Wizman and Edouard Baer's Radio Nova show, Cocktail Hour (La Grosse Boule).