As a bit of a graphic designer manqué myself, I'm interested in the fuzzy area where art and graphic design merge. I was particularly excited, for instance, to attend a sort of "documents opera" at the ICA in London in late May, entitled True Mirror Microfiche. This involved the conceptual designer-slash-art team Dexter Sinister performing texts in a theatre, with the assistance of various friends, using an array of overhead projectors, drumkits and amps, laptops and pieces of paper. It seemed to me that the formal qualities of paper documents were very much to the fore in this "opera", and I enjoyed the invitation to fetishize an endangered medium.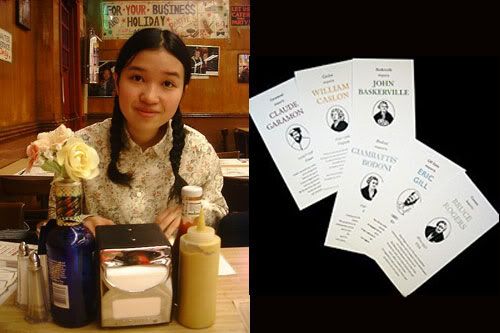 Another project which brings out the paper fetishist in me is Yukiko Sawabe's Great Type Designers Series. I've known Yukiko for almost ten years, and happened to be collaborating with her around the time the idea to celebrate typographers occurred to her. Yukiko came to Berlin in 2005 to research the Brothers Grimm fairy tale of Allerleirauh, which she planned to use in an art piece. We made several pieces of music inspired by the Grimm tale, which concerns a king who weds his own daughter.




A year or so later, I was surprised to hear from Yukiko that, with the help of her friend Mariko Takeuchi, she had transformed one of these songs -- the "King Song" -- into an ode to the typographer Claude Garamond. You can hear the second version of the song -- featured in the 2007 Kappan Saisei Ten Letterpress Printing Revive exhibition in Sangenjaya -- here.




After a run at Keibunsha Bookshop Gallery in Kyoto, Yukiko's exhibition "Typo recipe: Notes about Japanese Type Cases" is showing at Calo Bookshop Gallery in Osaka until August 8th. The exhibition resurrects the dying art of letterpress. "I will collect typo recipes from artisans and edit recipe books like a mother passing on to her daughter home cooking recipes," says Yukiko.

On a corrugated cardboard umadana (uma=horse, dana=shelf, and together they make a special shelf used for Japanese type) Yukiko is displaying colour-coded photos of Japanese type cases. The exhibition also features portraits of a letterpress artisan called Takashi Kobayashi, who runs one of the few remaining letterpress factories in Tokyo. Kobayashi made his own "type cookbook" entitled The Tale of Letterpress.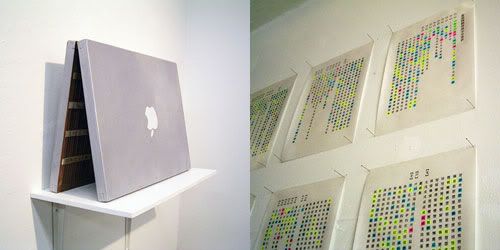 Japanese typecases are called sudare. In an ironic gesture -- for it's computer fonts and printers which are killing the letterpress printing process -- Yukiko turned two sudare cases inside out, painted them silver, and added the Apple logo to make a Sudare MacBook. "Everybody has a little umadana now," Yukiko says.

She has also created a kanji distribution map, marking 2000 out of the 9300 Chinese characters on 31 sheets, colour-coding them according to type, and providing a coloured gel viewer to see the groups with. According to an old Chinese legend, Soketsu -- the creator of the Chinese character system, and intelligent enough to grasp four classifications of kanji at a time -- had four eyes. The gel viewer therefore provides "Soketsu-scope"; normal two-eyed humans can't use the device properly. Yukiko has chosen to portray this Chinese prodigy as a four-eyed girl, and printed her face on a white dress.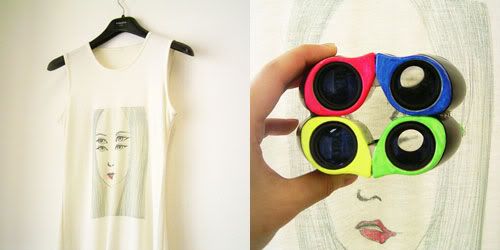 I personally find the monstrous face of Soketsu-as-a-girl a little hard to look at, but then I'm a limited creature with only one working eye.

Originally published July 21st as a blog entry on the website of Japanese art magazine ART-iT.