What is it with Shibuya, this ugly retail district in Western Tokyo? In the 90s, the musicians described as "Shibuya-kei" mostly lived in Roppongi, and later moved to Naka-Meguro. But Shibuya has the brand profile, probably because the Hachiko crossing looks good in pictures. Going with the flow, I ended up titling one of Kahimi Karie's American tours "Portable Shibuya". Now there's Tokio-Shibuya: The New Generation, a short season in Berlin (14th to 17th October) bringing Tokyo's new creative rat pack to the HAU theatre in Kreuzberg. The curators have illustrated the brochure, front and back, with Chim↑Pom's Pikachu-painted Super Rats, and -- naturally -- they're invading the Hachiko Crossing in Shibuya.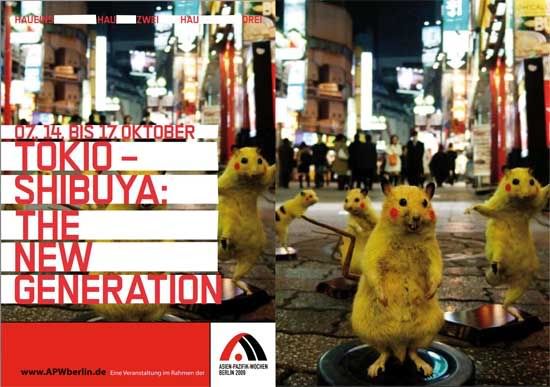 Of course, when you get down to the nitty gritty, a lot of this "new rat pack" culture comes from other parts of Tokyo. There's a talk by Hajime Matsumoto of the Shiroto No Ran collective, for instance, on October 17th, and when you mention that artist-activist group you think of the secondhand stores, vegan restaurants and dressed-down parties of the Koenji renaissance. Far from the Shibuya chic retail ethic, Matsumoto is all about keeping it shabby; at Hosei University he protested plans to demolish the scruffy campus buildings and invaded the cafe with 150 protesting students when they proposed raising the prices. His aim (and it's become a widespread one in Japan recently) is to get away from "the society in which every move costs money".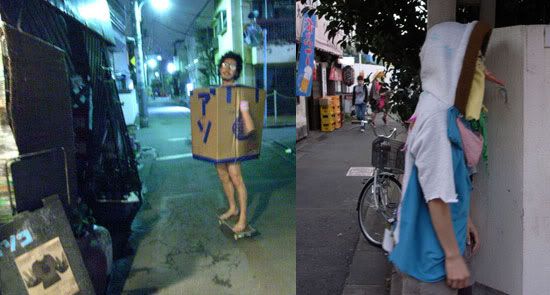 The curators of the Tokio-Shibuya season (Makiko Yamaguchi and Matthias Lilienthal) have also invited the chelfitsch theatre company, Click Opera favourites. Toshiki Okada brought his young troupe and their awkward "quotable gestures" to the HAU theatre last December. This time they present three new short plays (Hot Pepper, Air Conditioner and The Farewell Speech) and a panel discussion on the so-called "lost generation" or (in German) "null-dekade". There's Atsushi Sasaki of "post-techno collective" Headz (and magazine Fader) talking about the cultural metamorphosis of Japan since the 1990s, Sakamoto playing the piano (that happened Wednesday night, actually),and krautrock-influenced band Ghost.



Niwagekidan Penino are a "post-dramatic" theatre group led by 32-year-old psychiatrist Kuro Tanino. They're offering an update on Ibsen (streamlined, apparently, by sending the actors out onto the streets of Shibuya to talk to girls) featuring a girl with a pig nose, another with a sheep's face, and, chained up downstairs, a man whose penis grew from a tree. There's also Faifai, a theatre collective founded in 2004 and led by Yon Kitagawa, a girl obsessed by cosplay. Their video looks, to be honest, less promising than the dark, absurd, comic, Terayama-influenced visions of Niwagekidan Penino:



The Tokio-Shibuya season fits into a bigger Berlin event, happening now: the Asia-Pacific Weeks. Last night Hisae and I trekked out to Dahlem to see a kyogen production at the Museum for Asian Art.




Kyogen is the comical interlude performed during a noh play. Last night we saw a piece in which a daimyo tries to buy 3000 sumo wrestlers and ends up with just one mosquito, and another in which a man who's been persecuting owls has the spirit of an angry owl exorcised by a mountain priest by means of a crow spell (since owls and crows don't like each other). In these centuries-old but funny (and immaculately-dressed) playlets, Shibuya couldn't have felt further away.