I have a slightly oblique relationship with The Performa Biennial, New York's performance art jamboree. Zach Feuer, who hosts my New York art shows, suggested I apply to the first one in 2007. So I put together an idea for a comedy act called Bob Newart, a development of the art-related joke routines I was doing at the Whitney Biennial in 2006. The basic idea was that Bob Newart is a comedian whose material is so unfunny that he "dies on stage" every night, becoming a sort of sacrificial redeemer of the comedy world, dying so that other comedians don't have to.

It turned out we'd missed the application deadline for Performa07, so that idea got mothballed, and Bob Newart was stillborn. Elements of him live on in my Unreliable Tour Guide act, seen most recently at MUDAM two weeks ago and -- arguably -- in The Book of Jokes, which is partly about how far you can push the limits of jokes. (Latest review of The Book of Jokes is in The Quietus, here.)

I did, though, sneak Bob into Performa07 through the back door, inserting a series of whispered jokes into a show curated by Mathieu Copeland at the Swiss Institute. I covered that in a Click Opera entry called Making Swiss people tell jokes. Sample joke: "A man walked into a doctor's waiting room and the room blew down. "I thought you were a waiter", said the man. "I lost patients," said the room." Funny? Not funny? Not quite sure; it came to me in a dream.

This year I'm also not in the Performa Biennial. Twice. Aki Sasamoto will be performing at The PROMPT, a night club or "futurist variety theater" set up by Michael Portnoy in the White Slab Palace at 77 Delancey Street (November 11th to 15th), and I'll be absently present in the form of spoken instructions designed to alter and intervene in her performance. When we performed together daily back in May, the idea was that I was physically present (dressed as a kabuki stagehand), yet Aki ignored me totally. This time that's reversed: I'm absent, but Aki pays close attention to what I say. I act a bit like Eno's Oblique Strategies: my mp3 instructions are shuffled in iTunes and emerge randomly, influencing her actions in real time.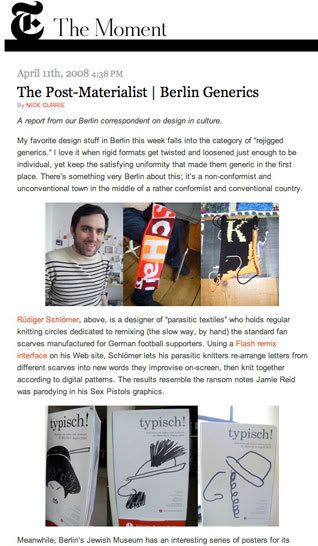 "Performative publishers" Dexter Sinister are also sneaking me into Performa09 through the backdoor via their FIRST/LAST newspaper event at BLANK SL8 in the Port Authority building on the corner of Eighth Avenue and 41st Street. From November 3rd to 22nd Dexter Sinister will be publishing six editions of a guerilla broadsheet newspaper and distributing them across the city of New York. The newspaper will be filled with contributions from guest writers, and will reflect on the unstable condition of contemporary news and related medias.

"Taking the form of a broadsheet—the original, large-format, single sided newspapers first produced in Europe in the 17th century—the six newspapers produced during the project will be distributed both in folded form and as flat sheets for public reading in various locations around the city." There'll be a new issue of FIRST/LAST every Wednesday and Saturday, and it'll be printed in an edition of 3000 copies and given out free.

Now, the beauty part of this project is that the Port Authority building Dexter Sinister are using as their hub is directly opposite the New York Times building. So the first thing that came into my mind, when they invited me to contribute (and knowing they love doubling, shadows, ghosts, illegitimate mirrors of official channels, Pynchon's alternative post office, and so on) was that I should re-write my column for The New York Times, The Post-Materialist (2008-2009), as "The Ghost-Materialist".

And so, across the road from its original point of dissemination, The Post-Materialist will become The Ghost Materialist, a column which takes the New York Times columns I wrote and adds lots of weird new information in the form of questionable facts, unreliable lacunae, fizzing static, markup glitches, weird non-sequiturs, google fluff, rampant fantasia, limericks, jokes, ectoplasm, and eerie voices from other worlds.

I can't think of a more exciting way of not-appearing at Performa. Twice.