There's something dispiriting -- but also something exhilarating -- about being 18, leaving home, and moving north, far north, into a grim little unit in a student hall of residence. In Aberdeen it felt like being a battery hen machine-cooped in an Arctic research station. But the exciting thing was that you got a blank space, a fresh start, a chance to define who to be, to choose some values, develop some interests, assert some styles -- the more extreme, the better. One of the first things I did was personalise the door of my room in Esslemont House with this image: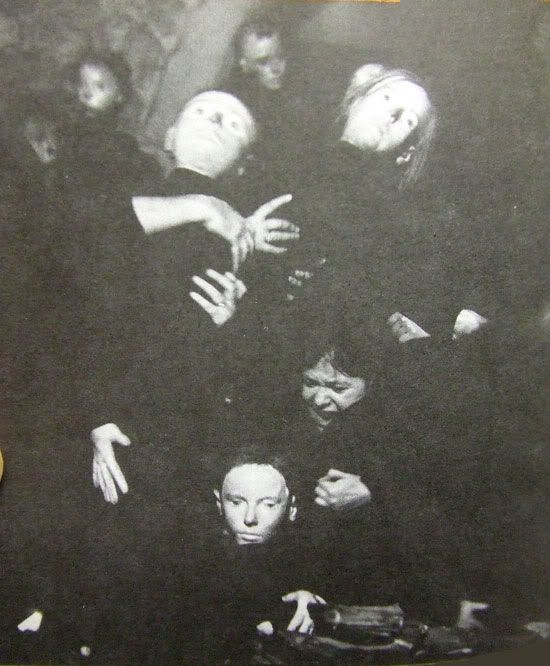 It's a still from Tadeuz Kantor's production of his play The Dead Class, and I cut it out of a copy of the John Calder theatre magazine Gambit, which I'd subscribed to along with a fiction magazine called Bananas. That was my image of myself, that I was a serious young man with literary ambitions, and these magazines proved it.

I also liked the zany, grainy, artily neurotic quality the pictures had. The human actors were frenzied, but the dummies were implacable, spookily calm, frozen-faced. The images, taped to my door, projected something alien yet familiar, expressing my secret wish to be new, and yet the same. God knows, Edinburgh had enough arty stuff from Poland (Kantor was a Pole) going on at the Festival -- soon, in fact, I'd get a chance to see a Kantor production at the Murray House Gymnasium, a reminiscence of his youth entitled Wielopole, Wielopole. I'd witness his hysterical style, in which actors clutching doubles of themselves run in circles in a series of gestures influenced by the ideas of Artaud, Grotowski and Gordon Craig.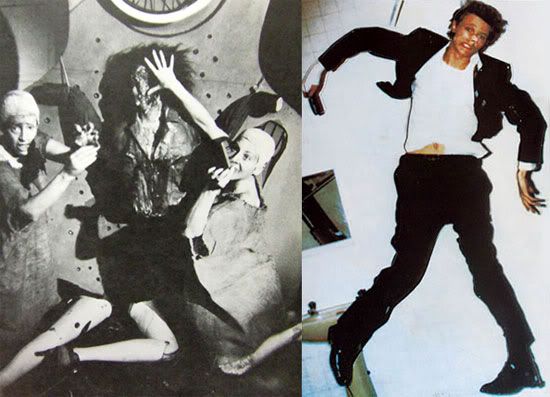 For now, though, it was enough that the images looked odd, avant garde and continental. This one reminded me of David Bowie's Lodger sleeve, in which he'd depicted himself grotesquely splatted on the ground, perhaps in allusion to Polanski's 1976 film The Tenant, in which a tranny (played by Polanski himself) jumps out of the window of his Paris apartment, repeating the gesture of the previous lodger. (It was a quotation Bowie would repeat in Jump They Say, where he also lies splatted at the foot of a building.)



The aesthetic of these grainy black and white (but spirited and zany) photos I was so recklessly pinning to my door was one I'd later recognize in Quay Brothers films. It was an atmosphere I imagined must reside, with the greatest concentration, in dim ateliers in Warsaw. And yet, even when I came to live in Berlin, and Poland lay next door, I never went to Warsaw. So far, I've just made one brief visit to Poznan, the closest city inside Poland.

That will change this weekend, though. On Sunday November 22nd I play an experimental music festival in the Polish capital entitled The Song Is You. I'll arrive there on Saturday night, in time to catch Justin Bond's performance:

The Song Is You Festival 09
Powiększenie
Nowy Świat 27
00-029 Warszawa, Warsaw
Poland

I certainly hope I'll find Warsaw full of half-lit ateliers in which people clutch at dummy doubles, but I'm ready to be educated out of my shadowy stereotypes too.

Meanwhile, if you're in Berlin there's a show this Wednesday evening (starting 8pm) at Staalplaat Working Space featuring me, Tomoko Miyata and Seiji Morimoto. It's one of the last shows Staalplaat Working Space (Flughafenstrasse 38, Neukolln, U8 Boddinstrasse) will stage, so do come down.

And while I'm mentioning Berlin gigs, don't miss Oorutaichi (plus a certain Joe Howe in his Ben Butler guise) performing at Madame Claude on November 27th. The man is the future of music.