Kahimi Karie -- musician, singer, blogger, essayist for Mayonaka (she has a text in the current issue), star... and now mother! At the end of last week Kahimi (who earlier this year married tap-dancer Kazunori Kumagai) gave birth to a baby daughter.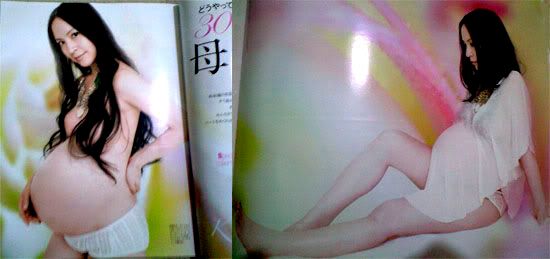 On our way to eat with friends (a big group of Malaysians and Japanese, plus one Malaysian-Japanese baby) at an Okinawan restaurant in Osaka last night, we saw copies of the new Crea magazine, hot off the presses, and featuring these photos of Kahimi pregnant. The pictures (by Mika Ninagawa) join images of Nobuko Hori and Isshiki Sae as compelling visions of Japanese fertility at a time when the nation's birth rate is sputtering. They're also deeply beautiful.

Later, when we all got a bit merry at the Okinawan restaurant and started singing karaoke, it seemed completely appropriate for me to pick this hit song I wrote for Kahimi in 1995. Good morning, akachan!