We began Saturday back at the No Man's Land show at the French Embassy, because Hisae hadn't seen it, and a whole new wing of student work had opened up since I saw the show on Thursday.

Then we walked in sunshine over the Hiroo hill to gm ten gallery at Azabu Juban, where Chiako Kudo and Mao Yamazaki were waiting to talk us through an event we're planning to hold there on December 22nd. This is a new gallery (it only opened in October) related to the operations of Osaka designers Graf, known for their furniture and playful constructions for Yoshitomo Nara shows worldwide. Mao runs the music side (his label, Akichi Records, releases Oorutaichi) and Chiako the art side.




I've been talking with friends about where to play a casual free live show while I'm in Tokyo, and the consensus has been that gm ten is the ideal spot. On December 20th their new art show -- featuring drawings by manga veteran Eico Hanamura -- will open, and on December 22nd at 20.30 I'll play a 45-minute Momus set in the gallery, hopefully joined by a special guest or two.




There's a map of gm ten's location -- right next to Azabu Juban subway station -- here and, as I said, the show is free.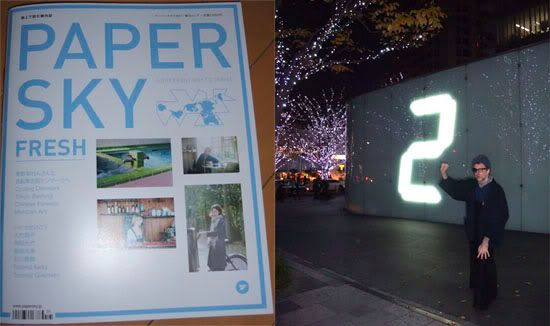 After the meeting with Chiako and Mao, Hisae and I headed (past the impressive Christmas... well, digits at Roppongi Hills) down to Ura-Harajuku to catch a panel talk at Vacant (catered vege-stylee by Yoyo!) featuring photographers Masafumi Sanai (Mr A Girl Like You himself) and Ume Kayo (her again!).

I had a wee thrill on the way to Vacant when I popped into Tokyo Bopper. Seeing charisma shop assistant Yama-Sama in the flesh for the first time really felt like seeing a pop star, and I had to hold back a manly squeal of excitement as I made a quick circle of the store and left (we were late).




After the talk at Vacant I met TABbers Cameron and Darryl again, then German photographer Sebastian Mayer and Vicente Gutierrez, who writes for Lucas Badtke Berkow's magazines Paper Sky (recently restyled) and Plants Plus, a sort of web extension of the excellent-but-defunct Planted magazine. Here are Lucas and Ito Seiko talking about their plans for the plants site:



I must say, I like the business goal of "widening the horizons of plants" by leveraging the green life forms' brand into previously-untried media, like a plants TV network and a plants music festival. Lucas thinks big; plants, it's time to raise your game!