Here's a New Year's Day puzzle I've set myself. I'm not doing very well at it so far. I'm trying to locate the oddly-shaped Osaka building in the userpic you see above. It's a crop from an image Rhodri Marsden took from his hotel window when touring Japan with Scritti Politti in 2006: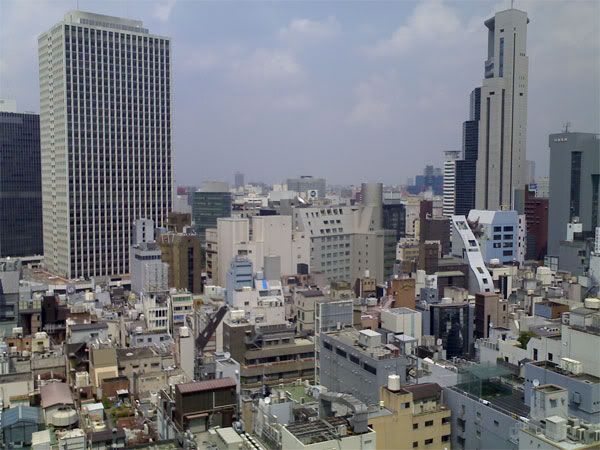 Now, finding exact locations from skyline views is something I pride myself on. For instance, I was able to locate the Tokyo apartment I've just spent the last three weeks in before I was given a street address, just based on a view from the balcony and a combination of Google Maps and Google Streetview. But this one has me completely stumped, and it's crazy, because the photo shows lots of distinctive buildings.

Hisae's father thought the skinny-tall building on the right was the Cosmo Tower, housing the World Trade Center, out by the docks in Nanko, to the west of the city. It certainly looks rather like it, but I'm not so sure. What we see in Rhodri's photo is a dense and rather chic central area. The district around the Cosmo Tower is bleak and windswept dockland. What's more, Rhodri was playing at the Quattro Club, and the promoters had probably booked Scritti Politti into a hotel not too far from it, which would make his view more likely to be out over Shinsaibashi. But I can't find any buildings in Shinsaibashi that look like that.




My next theory was that the black building on the left side of Rhodri's view is the same as the black building towards the right of the photo above showing the view north from Osaka Castle over Osaka Business Park.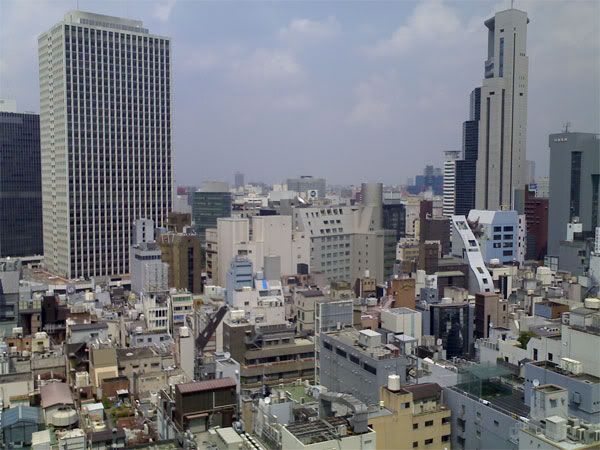 But since I can't see any of the other buildings in Rhodri's picture when I "walk" around that area in Google Street View, I've abandoned that idea.

My goal is to drop a Google Maps pin right on the spot where the weird wavy building in my user icon is, then drive out in Hisae's mum's Daihatsu Naked and photograph it (as well as find out what it is). I probably have a mild case of Asperger's.