Here I am sipping a G&T last night with Matsuri-kei star Doddodo in the Misono Building, a strange labyrinth of countercultural bars (there's one for Gothic Lolitas, one for stuffed rabbit enthusiasts, and so on).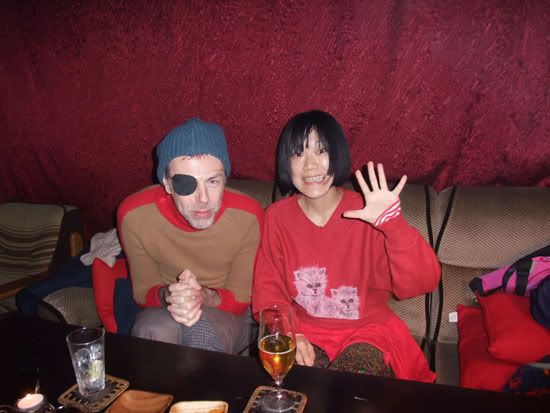 Today I'm heading round the coast in the Daihatsu Naked with Yoyo and Hisae. We'll lunch in Kobe then head across various headlands, spits and peninsulas to Shikoku, lodge somewhere near Takamatsu, then take the first ferry on Saturday morning to Naoshima. Here's the SANAA ferry terminal on that island:



Finally, a reminder that I lecture at Ritsumeikan University in Kyoto on Tuesday. It's open to the public, and begins at 10.40am:

Momus lecture: My Life in Art
Tuesday, January 12th
10:40 a.m. - 12:10 p.m., including time for questions & discussion w/ students.
Soshikan Conference Room (創思館コンファレンスルーム, next to the clock tower)
Ritsumeikan University, Kinugasa Campus, NW Kyoto, close to Kinkakuji
Some simultaneous translation into Japanese will be provided.
Open to the public.
Map.