Hisae, Yoyo and I spent Monday being shown around some extraordinary buildings in Onomichi, a port town on the Inland Sea sometimes used by Ozu for his films (it escaped bombing in the war), and dominated by an eerie temple pagoda perched on a rock. We spent Sunday night in a slightly spooky old house occupied by two university students, then, after a breakfast of bread from a tiny and excellent bakery, artist Kiyohito Mikami guided us through the warren of hillside pedestrian streets to look at some art projects he and Tamaki Ono have set up in some of Onomichi's 400 unoccupied houses. His project is called AIR Onomichi (AIR stands for Artists in Residence).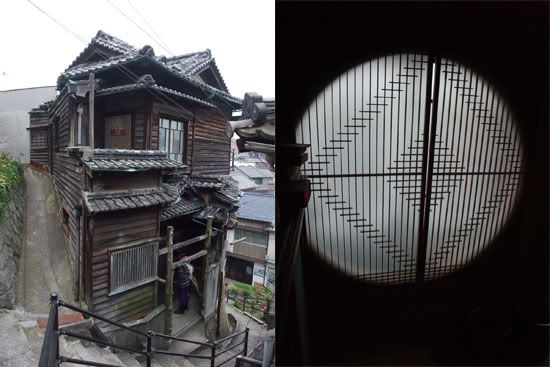 The most impressive of the refurbished structures is the Gaudi house, a cramped, ramshackle, elegant wooden structure built right up against the concreted hillside in the early 1930s. As Domus magazine explains, this house was built for a prosperous factory owner. It took one carpenter three years to build it, and had been lying abandoned for ten years when a young woman called Masako Toyota managed to buy the derelict structure for the bargain price of $25,000.





Over the last couple of years the house has been slowly refurbished by AIR. Artists have lived there and made installations, and opening parties for Onomichi art events are held there. Masako, Mikami and Tamaki have been careful to preserve the 1930s character of the house, leaving the original furniture and decorations even while they let contemporary artists decorate certain areas of the house. So you see a screen door with an intricate modern drawing of a fantastic cityscape next to a recess with a photo of a young Emperor Hirohito in it, a 1930s radio, or a copy of a book by Pirandello (this factory owner had good taste!).




I found the Gaudi house (the Gaudi bit is just a nickname, but I think "the Pirandello House" fits better) incredibly atmospheric; an extraordinary mixture of elegant and cramped, lucid and absurd. The carpenter who built it had to squeeze in a stair landing that was more like a ledge, which made the trip to the library and balcony excitingly hazardous. The main tatami-and-screen room had the most beautiful window shapes, and throughout there were gorgeous circular forms in the panes and shutters.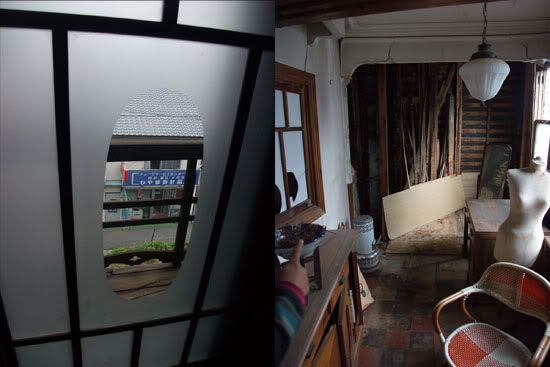 Some areas of the house are still impassable, and it basically stands open to the air; you can see the concrete of the hillside at the end of one of the rooms. It must be great in summer -- though a visitor's guide to Onomichi, prepared by AIR, says that you have to learn to live in tranquility with insects.





It was, of course, impossible to forget that the house dates from an imperialist and even fascist moment in Japan's history. Even the Pirandello book is a cultural connection to a fellow Axis power, the Italy of Mussolini. The Onomichi owner probably bought it because the year after his house was completed, Pirandello won the Nobel Prize for literature.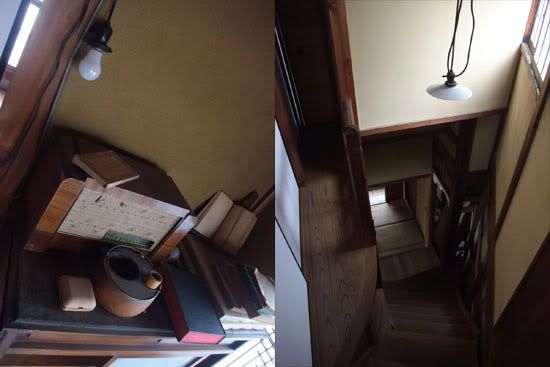 Artists have made the house reflect more personal concerns; Motoi Yamamoto filled it with dead-end paths in a salt labyrinth, a secret memorial to his sister, who died as a child.




I found the kitchen and bathroom particularly interesting; hibachi braziers and toilets that have to have their shit carried away periodically by benny trucks present a very different input-output technology than the kind we're used to. So while I could picture myself sitting in the library, reading Pirandello in the original Italian and listening to the latest reports from Abyssinia on the valve radio provided, I think I'd probably nip down to the local combini -- and the 21st century -- for calls of nature.

By the way, do check out Pirandello's writing if you've never heard of him. It's incredibly lively and funny, relativistic and absurdist. His short stories influenced me quite a bit when I was a student.