I've plummeted back to Berlin amidst some oddities and ironies. Firstly, although there are dirty blankets of snow on the ground here and the temperatures are consistently several degrees below zero, Berlin feels a lot warmer than Osaka. People here heat their houses, and even when you go out you experience the cold only as a dry, sharp pang on your face and some slithery ice and snow underfoot. The Japanese thing of getting cold deep in your bones, of dreading the trip to the bathroom, just doesn't apply here. I'm wearing my samurai chanchanko top purely for the pose factor: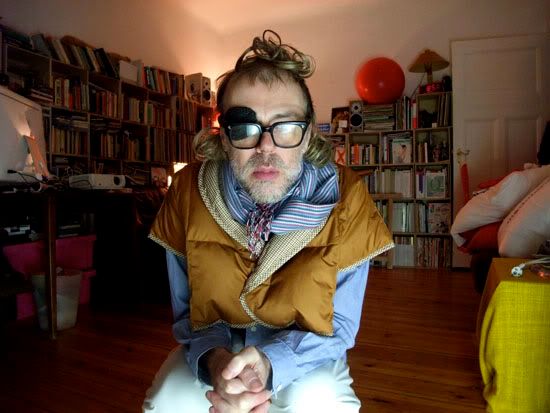 The second irony is that I hurried home from Japan this week to deliver an address entitled "Love of Blogging" to a seminar at the Freie Universität here in Berlin. Organised by Miya Yoshida, the seminar was umbrella-titled Tag the World: Collective Work and the Notion of the Amateur in the Age of the WWW. You can see my half-hour slot in this uStream video (scroll forward to 02:32:00 -- yes, two hours in -- and kill the annoying ads). As I began by pointing out, my love of blogging has largely come to an end, and I'm seeking other forms of expression, including much older, less amateur ones like ink-and-paper.



My other engagement this week is an interview I'm recording on Friday with BBC Radio 2 about Jacques Brel (it's transmitted later in the year). The irony here is that I've felt increasingly distant from Jacques Brel (who nevertheless helped finance my Japanese trip, God bless him, via the fees for the Brel Barbican concerts) and would feel much more comfortable talking about the new film about Serge Gainsbourg, who sort of replaced Brel in my personal pantheon of heroes circa 1987.



Gainsbourg: vie héroïque (Being Serge Gainsbourg) is a new biopic by Joann Sfar starring ringer Eric Elmosnino as Serge, Philippe Katerine as Boris Vian and Lucy Gordon (who sadly committed suicide recently) as Jane Birkin. It's great to see Katerine (a friend, fellow Gainsbourg fanatic, and fellow Kahimi Karie collaborator when I lived in Paris in the mid-90s) singing alongside the uncannily-good, spectrally-accurate Elmosnino. Interview me about the hook-nosed tender pervert instead, BBC!